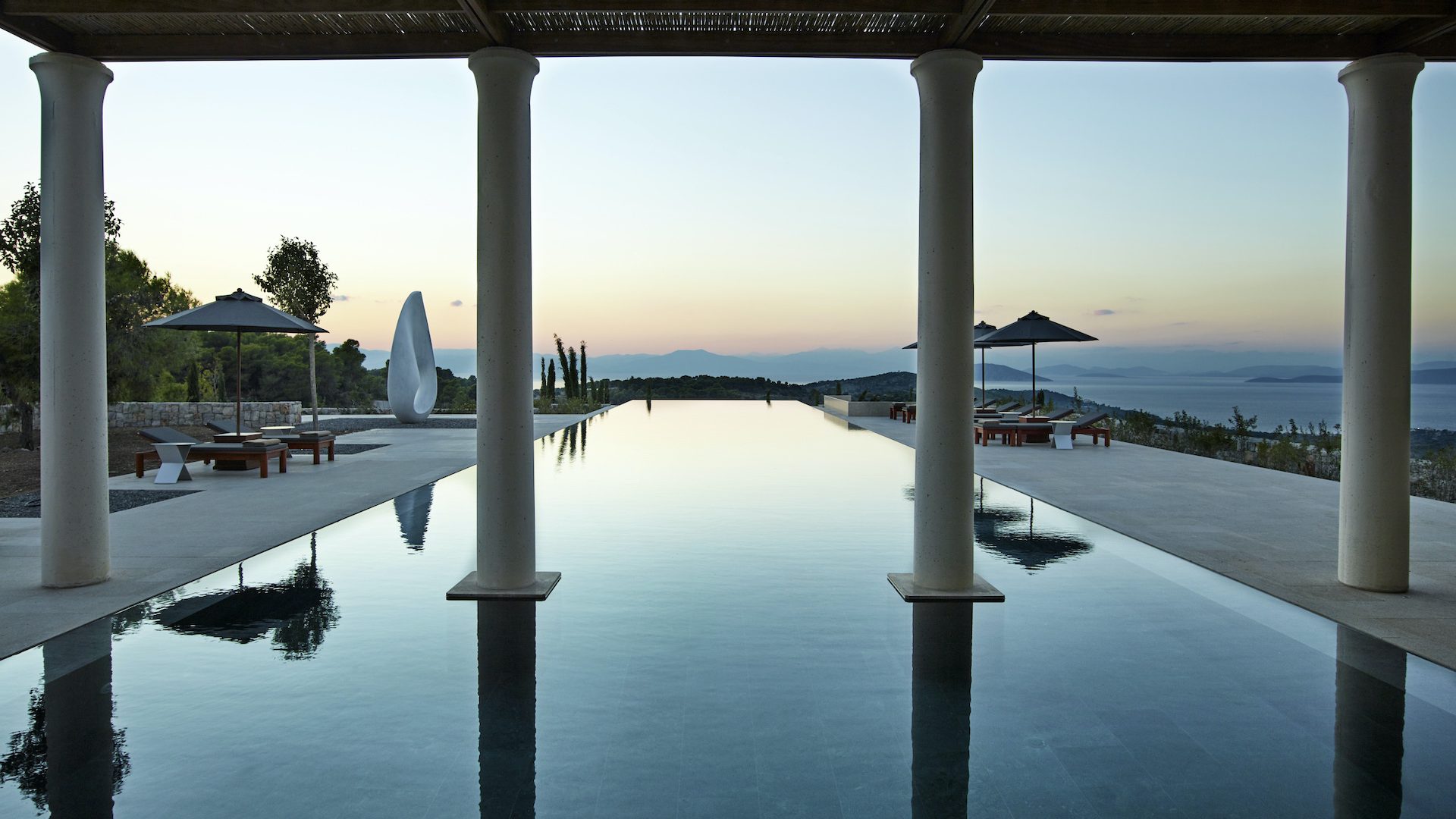 Villa 20
Porto Heli
Upon Request
Villa 20
This ultimate private retreat in Porto Heli is ideal for families and groups of friends alike. A masterpiece of indoor-outdoor living perfect for those who want to spend quality time in a home away from home.
In more detail, Villa 20 extends in 6 levels and can host 18 guests within its 6 suites and 3 luxury studio bedrooms. All of them are opening onto private terraces and some featuring  plunge pools. For additional privacy, there is also access to the beach cabana. The beach cabana features a private terrace and a 10 meter pool, while the shore is just 30 meters away.
In addition, the private spa and the gym offer a wide range of facilities. Guests can train daily in the state of the art gym and then relax in the sauna/steam room, or swim in the 15m indoor pool. On the other hand, those who want to connect with the nature, can use the spacious outdoor yoga and training terraces with the amazing views.
In terms of the architecture, both the interior and exterior of the residence are quite impressive. Graceful colonnades together with high ceilings and contemporary design remind of a modern day Acropolis. Large sculptures are beautifully placed throughout the property, while the selection of art and books in the library creates the mood of a private home. Guests can relax in one of the multiple living areas, like the alfresco fire ring. Alternatively, they can enjoy their meal in one of the spacious dining venues. A great option is the Greek taverna under the ancient olive trees, where guests can taste traditional plates from the Greek cuisine.
The retreat is without a doubt a home full of warmth and intimacy that meets the highest expectations. Literally, a heaven on earth where guests have endless choices.
*Part of a hotel. Thus, guests have full access to the hotel facilities and the beach club.
2 Infinity swimming pools
Private Gym & Yoga studio
Extensive gardens & sea views
Gym with Technogym equipment
Yoga studio
Water massage bed
Indoor pool (15 m)
Entertainment room
Contemporary art
Steam room
Sauna
Whirlpool
Library
Elevator
Wi-Fi
Extensive Garage space
30 m Infinity swimming pool (2nd level)
40 m Infinity swimming pool (6th level)
4 additional pools
BBQ with dining table for 18 guests
Fire ring set within the gardens with a rustic wooden table for 18 guests
Greek taverna under the olive trees
Contemporary art
Athens International Airport  200,0 km
Athens to Villa 20 (by helicopter)  25 min
Epidaurus  53,0 km
Nafplion city  74,0 km
Spetses & Hydra  short boat ride
Unnamed Road, Kranidi 213 00, Greece
Dedicated villa housekeeping and culinary staff members (Houseman, Chef, Room attendant).
Full access to comprehensive resort staff for any additional requirements.
Access to all resort facilities and amenities.
Resort maintenance and security staff.
House added to your favorites!